Lessi la prima volta sei delle ventuno Greeting Cards op.170 – quelle scritte per chitarra – del compositore fiorentino Mario Castelnuovo-Tedesco circa vent'anni fa. Fu uno studio improntato sul lato prettamente esecutivo. Pochi giorni fa ho riletto e registrato la Greeting Card n.47, quella scritta sul nome di Angelo Gilardino. La rilettura è stata interamente effettuata incentrando dinamica, timbrica e atmosfera interpretativa sullo stile del dedicatario, la cui musica è parte del mio repertorio da molti anni.
Coincidenza ha voluto che Frédéric Zigante, proprio in questi giorni, terminasse il suo lavoro di revisione di queste pagine, lavoro pubblicato meno di 24 ore fa dalle Edizioni Ricordi.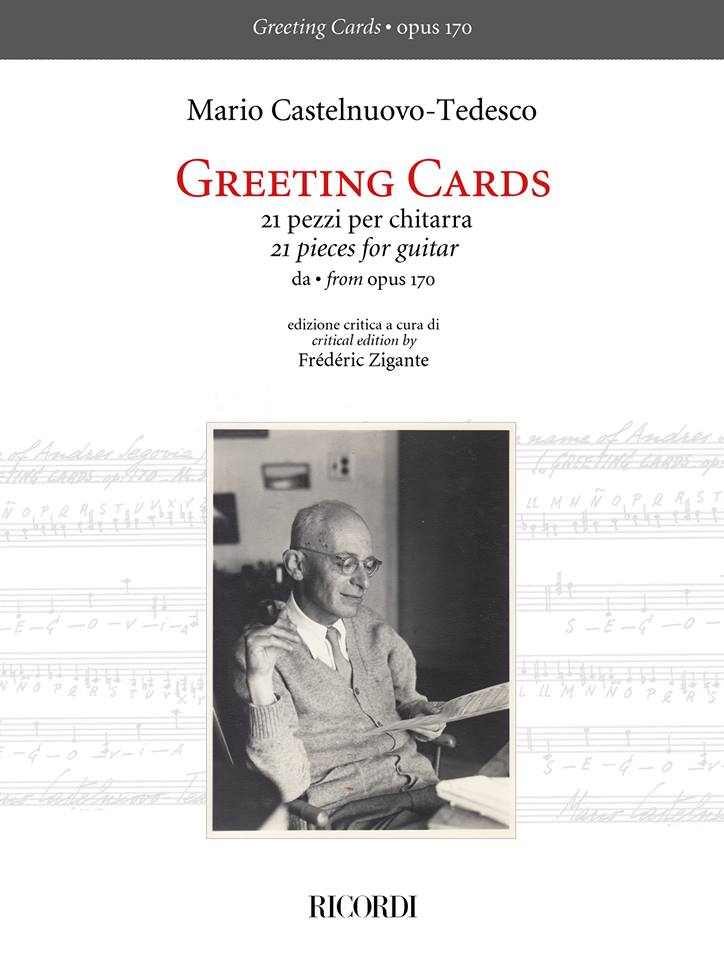 Ebbene, a seguito di una breve riflessione ho deciso che parallelamente al progetto discografico dedicato alla musica di Franco Cavallone, darò forma alla release singola Mario Castelnuovo Tedesco Greeting Cards for Guitar che, per l'appunto, conterrà la mia interpretazione di queste splendide ventuno composizioni, alcune delle quali davvero di grande pregio.
Le Greeting Cards per chitarra sono le seguenti:
n. 5 Tonadilla on the name of Andrés Segovia
n. 6 Rondel on the name of Siegfried Behrend
n. 7 Preludio in forma di habanera sul nome di Bruno Tonazzi
n. 10 Tanka (Japanese song) on the name of Isao Takahashi
n. 14 A lullaby for Eugene to Eugene Robin Escovado
n. 15 Song of the Azores on the name of Enos (Joseph Enos)
n. 33 Canzone siciliana sul nome Gangi (Mario Gangi)
n. 34 Ballatella on the name of Christopher Parkening
n. 36 Sarabande on the name of Rey de la Torre
n. 37 Romanza sul nome di Oscar Ghiglia
n. 38 Homage to Purcell Fantasia on the names of Ronald (1932) and Henry (1659-1695) Purcell
n. 39 Canción cubana on the name of Hector Garcia
n. 40 Canción venezuelana sul nome di Alirio Díaz
n. 41 Canción argentina sul nome di Ernesto Bitetti
n. 42 Estudio sul nome di Manuel López Ramos
n. 43 Aria da chiesa sul nome di Ruggero Chiesa
n. 44 Brasileira sul nome di Laurindo Almeida
n. 46 Japanese print on the name of Jiro Matsuda
n. 47 Volo d'angeli sul nome di Angelo Gilardino
n. 48 Canzone calabrese on the name of Ernest Calabria
n. 50 Tarantella campana on the name of Eugene Di Novi
La bella notizia è che la casa discografica Brilliant Classics ha accolto con grande entusiasmo l'idea del progetto. Per la cover ero indeciso tra le opere di Giovanni Signorini (1808 – 1862) e Giovanni Fattori (1825 – 1908). Alla fine ho deciso che proporrò all'editore La Libecciata, suggestiva opera del secondo. Una versione beta qui sotto: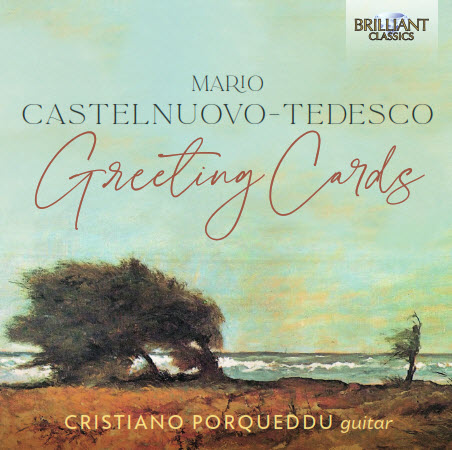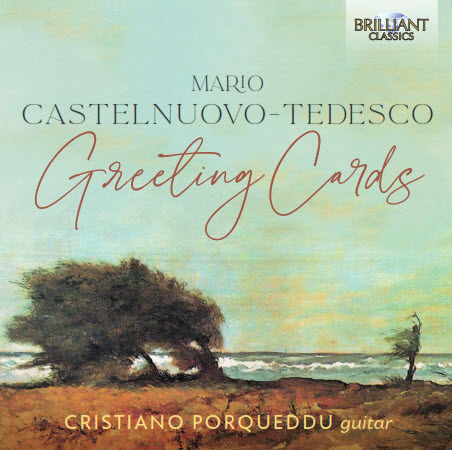 Sarà davvero interessante, a due decenni di distanza, riprendere queste splendide composizioni sotto un punto di vista completamente diverso.