Nel corso delle trascorse settimane ho iniziato la stesura degli otto Studies from Eight Views of Xiaoxiang, una nuova serie di composizioni per chitarra sola.
Le pagine traggono ispirazione dallo studio dell'arte figurativa che lo scorso anno mi ha portato a conoscenza delle straordinarie Eight Views of the Xiao and Xiang Rivers (Xiao-Xiang ba jing 瀟湘八景), ca. 1150, otto pergamene (rotoli) della Dinastia Song ritenute la più antica serie di vedute dei fiumi Xiao e Xiang, un tema paesaggistico che divenne popolare alla fine del XI secolo. I pittori delle otto views non erano interessati tanto a rappresentare luoghi specifici lungo i fiumi quanto a ritrarre con inchiostro ed elementi lirici l'atmosfera nebbiosa, da luce fioca, tipica di quella regione.
Ciascuno dei titoli poetici suggerisce un momento della giornata, una stagione o determinate condizioni atmosferiche.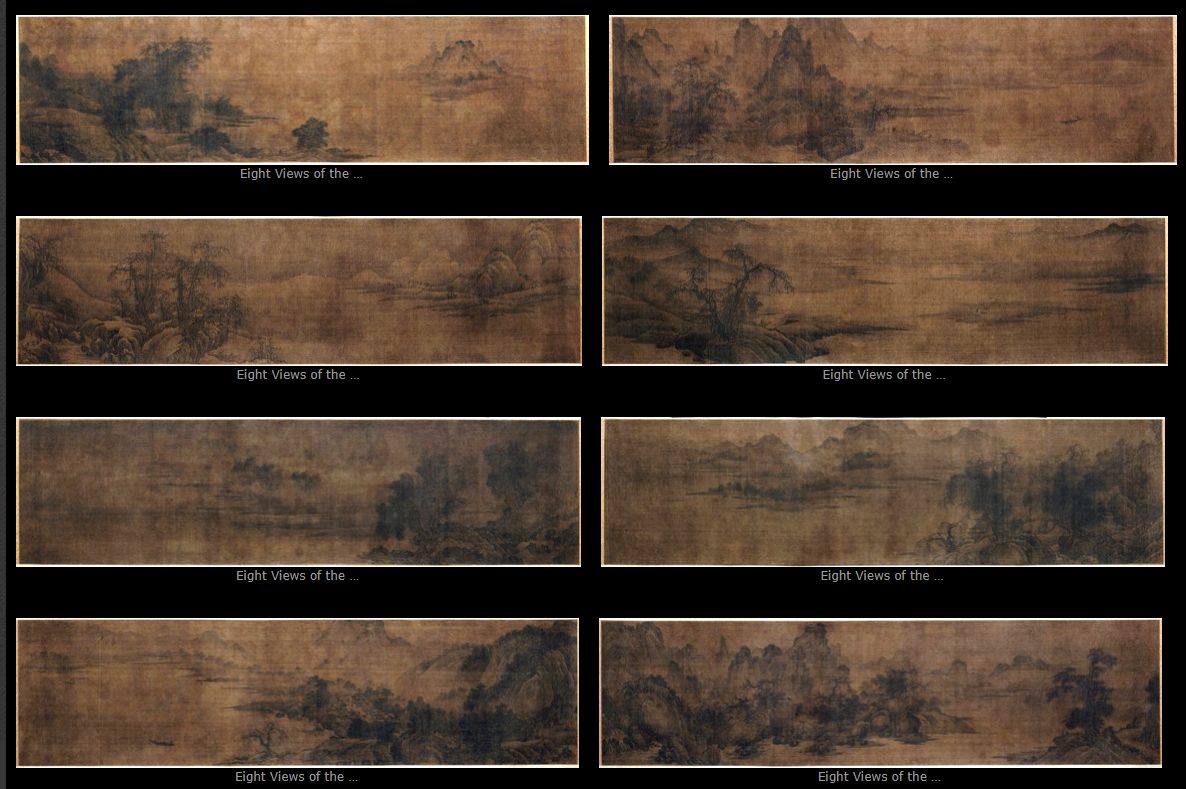 Le otto viste (titoli tradotti in lingua inglese):
"The rain at night on the Xiaoxiang" (Chinese: 瀟湘夜雨), in the south (Xiang River area)
"The wild geese coming home" (平沙落雁), in Yongzhou
"The evening gong at Qingliang Temple" (煙寺晚鐘), in Hengyang
"The temple in the mountain" (山市晴嵐), in Xiangtan
"The snow in the evening" (江天暮雪), on the Xiang River
"The fishing village in the evening glow" (漁村夕照), in Taoyuan County
"The moon in autumn on Dongting Lake" (洞庭秋月)
"The sailing ship returning home" (遠浦歸帆), in Xiangyin, in the north
In italiano:
La pioggia di notte sullo Xiaoxiang
Oche selvatiche che tornano a casa
Il gong serale al Tempio Qingliang
Il tempio in montagna
La neve la sera sul fiume Xiang
Il villaggio di pescatori di sera si illumina
La luna in autunno sul lago Dongting
Il veliero che torna a casa
Inutile dire che queste splendide opere d'arte hanno fatto breccia: la grazia del tratto e la profondità delle liriche, la cui traduzione è – faticosamente – ancora in corso e avviene grazie alle fonti suggerite di amici più esperti di me in materia, mi hanno invogliato nella scrittura di più composizioni la prima delle quali è proprio 江天暮雪, ovvero, La neve la sera sul fiume Xiang.
Pronuncia:
Dedicherò ogni studio ad un giovane interprete e conto di terminare la stesura completa entro la prima metà del 2022