Alzi la mano chi, sopra i 30 anni di vita, non ha mai sentito parlare di Street of Rage.
Streets of Rage – Bare Knuckle (ベア・ナックル) nella versione Giapponese – è un videogioco appartenente al genere picchiaduro a scorrimento, sviluppato e distribuito da SEGA e uscito su Sega Mega Drive, Sega Master System e Sega Game Gear nel 1991. Il grande successo ottenuto ha convinto gli sviluppatori a produrne due seguiti(Streets of Rage 2 e Streets of Rage 3), altrettanto buoni e di altrettanto successo. È riconosciuto dai fan come uno dei migliori picchiaduro a scorrimento della storia, assieme a titoli come Final Fight e Double Dragon.
Un gruppo di programmatori e designer, veri fan(atici) del gioco, hanno una decina d'anni fa dato il via ad un ambizioso progetto: il remake del videogame con il completo porting su piattaforma PC. Si tratta dei ragazzi di bombergames, una community spagnola capitanata dall'utente 29enne Bomberlink. A seguito dell'enorme successo del progetto sono state rilasciate 5 versioni definitive del gioco e l'ultima è davvero divertente perché mescola livelli, personaggi e situazioni della intera triologia originale con una storyline completamente ridisegnata.
Il successo, arma a doppio taglio: la notizia del remake è arrivata fino alle orecchie del gigante SEGA che ha fatto chiudere i battenti al progetto. Scelta ottusa quanto inspiegabile, quella della SEGA: il videogame era fuori produzione da oltre 20 anni e senza la console MegaDrive (anch'essa fuori produzione) era ingiocabile. A mio parere un evidente caso di stupida rigidità nell'interpretazione del copyright.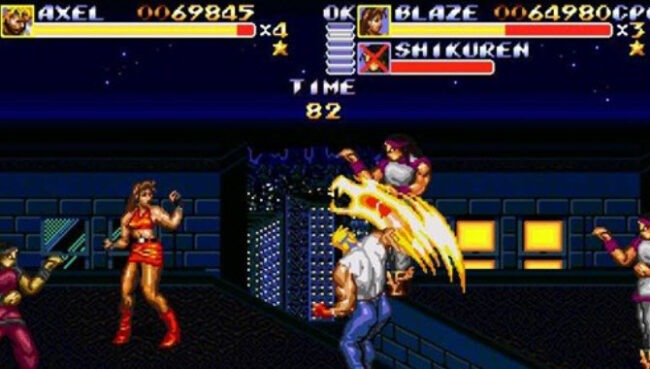 A muovere la versione 5 (l'ultime) del remake ci pensano 80.000 linee di codice, otto anni di sviluppo, uno studio attento e meticoloso su come funzionavano le versioni originali rilasciate sulle console SEGA e oltre 10 designer impegnati per anni nella minuziosa riproduzione dei personaggi della saga (sono stati creati 19 personaggi ognuno con il proprio set di mosse), per poi rendere ancora più dettagliati gli stages grazie a nuovi elementi negli scenari, nuovi nemici e una colonna sonora completamente remixata in formato OGG ad alta qualità con oltre 76 brani musicali alcuni dei quali addirittura ispirati alle versioni uscite per la console portatile Game Gear.
Altri numeri? Non è possibile condensare in un solo post otto anni di lavoro: fondali animati, una valanga di sequenze di intermezzo, 93 stages in modalità storia più altri 10 sbloccabili alla fine, modalità di gioco speciali, un editor, un'intera città esplorabile con tanto di mappa delle locazioni e tutto quello che si potrebbe desiderare in un remake di una saga entrata nei cuori di milioni di appassionati in tutto il globo.
Il sito ufficiale del progetto è http://www.bombergames.net/. La SEGA ha impedito il download del remake dal sito bombergames.net ma il software è – come facilmente immaginabile, trattandosi di un freeware – disponibile su moltissimi siti internet.
Qui due link diretti:
Street of Rage Remake per PC versione 5.0 | LINK
Patch alla versione 5.0a (necessaria per Windows 7 e 10 a 64 bit) | LINK
Versioni per Mac, XBox eccetera sono disponibili qui: https://www.woc.brawlersavenue.net/home