Edison Denisov o Denissow (1929-1996) è un compositore che ho iniziato a conoscere nel corso dell'estate del 2015 grazie alla sua Sonata per chitarra sola inclusa nel progetto discografico Russian Guitar Music of XX and XXI century. Lasciando fuori il suo Chamber Concerto, il compositore russo ha lasciato dodici concerti per strumento solista tra i quali cello, piano, violino, viola, clarinetto, flauto, sassofono e chitarra. Nel corso della ricerca effettuata sulla sua musica ho naturalmente messo la lente su quest'ultimo e posso affermare che il Konzert für Gitarre und Orchester (Concerto per chitarra e orchestra) è un'esperienza di ascolto davvero notevole!
L'organico:
4 flauti
corno inglese
4 clarinetti di si
fagotto
4 trombe in si
percussioni: 3 trinangoli, 5 piatti sospesi, 3 tam-tam, crotali, campanelli, campane, vibrafono
arpa
celesta
cembalo (amplificato con microfono)
piano
chitarra sola
violini I, II
viole
violoncelli
contrabbassi
Scritto con mano ferma e con grande fantasia si sviluppa su un'unico movimento, liquido, visionario e con magistrale orchestrazione. Atmosfera di kafkiana di attesa con la chitarra che dialoga con arpa, celesta, cembalo, vibrafono e persino con le percussioni. Il compositore conosce bene lo strumento a sei corde e ci sono parti (dialogo a tre con arpa e cembalo o la cadenza) che mostrano come abbia afferrato in pieno la caratteristica principe dello strumento, il timbro.
Ho trovato ottimi spunti di studio e di analisi sulla pubblicazione "Edison Denisov" della harwood academic publishers curata da Yuri Kholopov e Valeria Tsenova.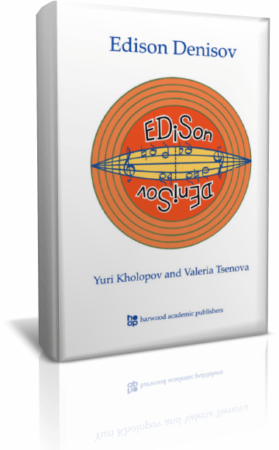 L'unica registrazione del Konzert che sono riuscito a procurarmi (dal vivo e di un interprete sconosciuto) è questa: