Mi sono avvicinato alla musica del chitarrista-compositore Owe Walter (1946) molti anni fa attraverso due studi per chitarra di cui possiedo i manoscritti (Etyd Nr. 4, del 1978 e Tagetes del 1986) e che non sono proprio il massimo.
Autore di oltre 270 composizioni per chitarra (tra cui le celebri Sommersaga e Vintersaga edite da Broekmans & Van Poppel) Walter ha studiato chitarra con Gunnar Lit Fle. È titolare della cattedra di chitarra classica presso l'University College of Music Ingesund e presidente della Swedish Guitar and Lute Society. È direttore di Liten Gitarrakademi di uno dei primi festival dedicati alla chitarra (la prima edizione risale al 1968)  e ha scritto musica per chitarra sola e in formazioni da camera pubblicata in Svezia, Belgio, Italia, Olanda e Inghilterra. Ha inoltre pubblicato un metodo – che non conosco – in cinque parti molto conosciuto in Svezia.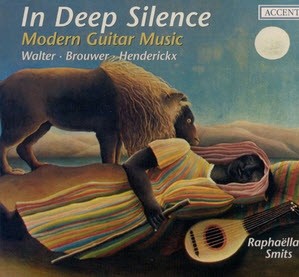 Nel disco In deep Silence, Accent Records si può ascoltare la registrazione del suo trittico "La Guitarra" interpretato da Raphaella Smits ( Link su Spotify, Link sul sito della chitarrista).
Sul web si trova pochissimo e da una superficiale ricerca pare che la Smits sia l'unica ad avere inserito lavori del chitarrista-compositore in una tracklist. E inoltre non è facile trovare eShop che vendono la sua musica.